WAVE - low straight unit - LUV101
Wave
reception desk organic front
Colour of the top
White pastel
Colour of the front
Avocado matte NCS S3020-G60Y
Delivery time&nbsp

3-4

weeks.
Product made to customer's order.
Reception desks Products Office Hotels & Restaurants Reception desks Reception desks Reception desks
---
Product details
MFC with FSC and PEFC certificates;
Modular construction;
The version with a lower element is adjusted to the needs of people with disabilities;
Organic form of the front;
Optional NPX1 sneeze guard;
Designed for office and public buildings

Top - MFC 36 mm + Glass LACOBEL 4 mm (40 mm);
Worktop - MFC 28 mm, ABS edge;
Front - HPL - high gloss;
Decorative stripe - PVC, colour: M009 - aluminum semi-matt;
Low side panel - MFC 28 mm, ABS edge;
Leveling - 5 mm range;
Shelf for reception counter - HPL mat 6 mm;
Fixing element - powder coated metal, colour: M015 - metal white semi-matt;
Side panel linking low and high fronts - MFC 28 mm, ABS edge;
Cable grommets - Ø80 mm;
Supporting leg NL41 - required for connecting the tops

MFC: 84%
HPL: 8%
Steel: 3%
Glass: 2%
Plastic: 1%
Cardboard: 2%

*average values for a representative of the group.

Recyclable: 17%
Downcyclable: 83%

*average values for a representative of the group.

Environmental Product Declaration Type III ITB No. 354/2022
FSC/PEFC

PN-EN 12150-1+A1:2019-06 Glass in building. Thermally toughened soda-lime-silicate safety glass.

Wood-based materials used in the production of our furniture are acquired from FSC-certified producers.
Sustainable production – we are not indifferent to the environmental impact of our furniture, therefore we provide the essential information on the lifecycle of our products via the Environmental Product Declaration.
Tempered glass used in the production of our furniture is EN 12150-1+A1:2019-06 certified.

Materials: cardboard

Recyclability: 100%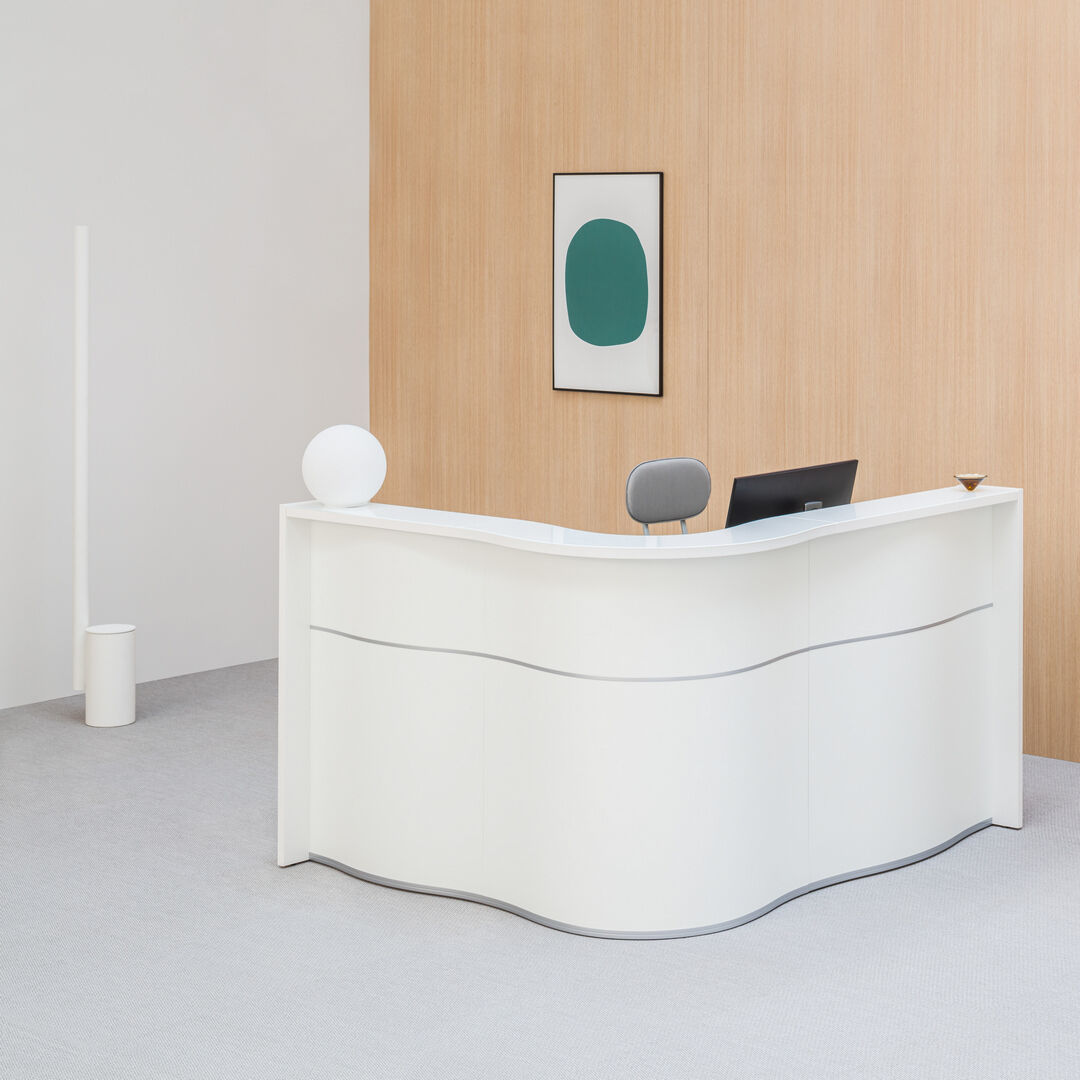 Wavy line reflecting strength and tranquillity of the dormant ocean — Wave reception desk stands out with is design. Simultaneously luxurious and professional character of this piece of furniture is emphasized by a white gloss of the worktop, glossy front and decorative aluminium bar. Modular construction allows creating customized configurations. Snail shaped reception helps to save space and at the same time provides functionality. An extended version of the desk can consist of several workstations whereas employing a low module with overhang top is a convenience for disabled customers. The characteristic form does not overwhelm the interior, but it attracts attention.