Standard - Locker - cabinet with storage compartments - LOK03
Locker Standard
locker cabinet
Colour of top & base
Acacia
Colour of the body
White pastel
Colour of front A
Aluminum satinato
Colour of front B
White pastel
Delivery time&nbsp

8-9

weeks.
Product made to customer's order.
//= view($viewSubDir . 'configurator/symbols-group', ['group' => $accessory['Accessories'], 'domainUrl' => $domainUrl, 'devMode' => $devMode, 'firstCat' => true, 'isSymbol' => false, 'isAccessory' => true, 'showMetaFillableFields' => $showMetaFillableFields,'isMultiple'=>$isMultiple, 'baseSymbol' => $baseSymbol, 'lang' => $lang])->render() ?>
Storage Cabinets and bookcases Products Office Hotel and restaurant Storage Storage Cabinets
---
Product details
Compliant with standards: PN-EN 14073-2:2006;
MFC board with FSC and PEFC certificates;
Modular system of adding height and width of the locker;
Optional metal base;
Possibilty to freely configure colours of the fronts;
Optional felt basket for the inside of the segments;
Designed for offices, receptions, cloakrooms, archives and public spaces

Top - MFC 28 mm, ABS edge;
Body - MFC 18 mm, ABS edge;
Front - MFC 18 mm + HPL;
Base - MFC 18 mm, ABS edge;
Boards density: 12 mm - 690 - 750 kg/m3, 18 mm - 650 - 690 kg/m3, 28 mm - 610 - 630 kg/m3, 36 mm - 610 - 630 kg/m3;
Internal dimensions of one segment - 364 x 388 x 373 mm;
Horizontal partition wall - 18 mm laminated board, edging of ABS;
Opening for inserting sheets of paper - slot 17 mm;
Patent lock - option with extra charge - combination lock, electronic code lock or electronic card lock (delivered with 2 cards);
Leveling feet 27 mm - range 5 mm;
Symbols - important when choosing a colour, possibile to choose front in various colours

Sustainable production – we are not indifferent to the environmental impact of our furniture, therefore we provide the essential information on the life cycle of our products through the Environmental Product Declarations (EPD).

Materials: cardboard

Recyclability: 100%
---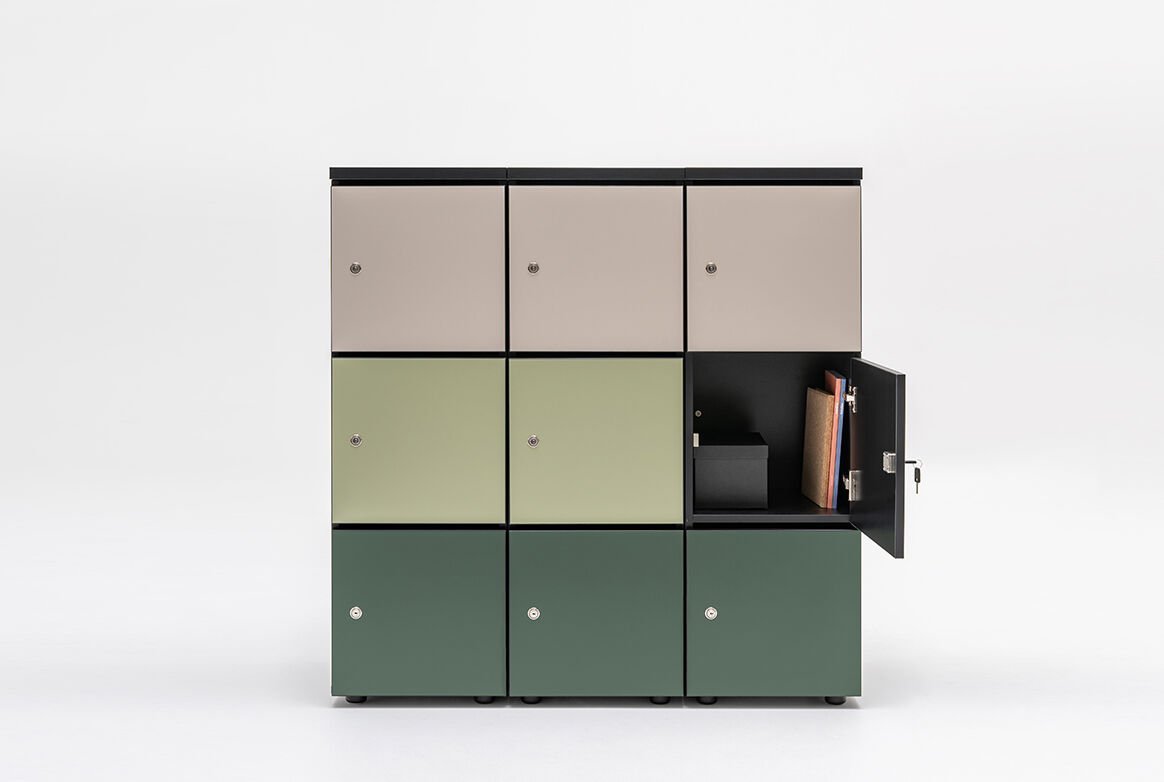 Locker type cabinets were designed as a multifunctional piece of furniture. Depending on the needs of the user, the cabinets can function as name-tagged lockers for personal belongings of the employees in the office or a co-working centre or storage system for archives. What is more, they can also be used as a tool for effective correspondence management. The wide range of uses makes the locker type cabinets an essential tool in the offices of traditional as well as more flexible character.