OGI B - bench with wooden legs - BOB50
Save configuration
We'll save your created configuration so that you can return to it, edit it or place the order.
The configuration has been sent to your email address
You can copy the below link to your configuration and share it with your friends
Colour of the top edging
White pastel
Colour of mediabox / grommet
Delivery time&nbsp

2-3

weeks.
Product made to customer's order.
//= view($viewSubDir . 'configurator/symbols-group', ['group' => $accessory['Accessories'], 'domainUrl' => $domainUrl, 'devMode' => $devMode, 'firstCat' => true, 'isSymbol' => false, 'isAccessory' => true, 'showMetaFillableFields' => $showMetaFillableFields,'isMultiple'=>$isMultiple, 'baseSymbol' => $baseSymbol, 'lang' => $lang])->render() ?>
Desks Desk systems Bench desks Products Office Desks Ogi EUR US GB
---
Product details
Legs made of natural ash wood;
Durable worktop made of MFC;
Practical add-ons: mediaboxes, cable rails and culverts, hooks, shelves, organisers or acoustic panels improve the functionality of the desk;
Compliant with standards: PN-EN 527-2:2017-02;
Produced entirely in .mdd's factory in Poland and tested at all stages of production;
Universal design refers to the Scandinavian traditions;
Designed for offices and homes

Worktop - MFC 28 mm, ABS edge;
Optional grommet - 2 pcs, Ø 80 mm;
Optional mediaboxes: M04H - 2 x RJ45 (class E, cat. 6); + 1 x USB + 1 x HDMI + 4 x 230V; M04 - 2 x RJ45 (class E, cat. 6); + 1 x USB + 4 x 230V; M071: 1 x 230V + 1 x USB A charger + 1 x USB C (USB C charger as a separate product); fits: Ogi and Ogi Drive desks; shape: round; colour: matching the frame; mounted instead of the existing grommet Ø80 mm (PK80);
Optional top access M05;
Optional cable trays: horizontal cable tray S69 - powder coated; horizontal cable tray E64 - powder coated; Cable tray for bench desks (SG220, SG260) - steel wire Ø4 mm, powder coated
Optional cable way - the width of the opening is proportional to the width of the worktop;
Base - natural wood - ash,coated with transparent varnish, profile 40 × 56 mm, spacer 10 mm between top and frame;
Optional sliding top - shifting range 141 mm; tabletop sliding lock;
Edges can be attached using laser technology or PUR glue - please contact Customer Service if tender or project guidelines require laser edging.

MFC: 67%
Wood: 3%
Steel: 24%
Plastic: 2%
Cardboard: 4%

*average values for a representative of the group.

Recyclable: 37%
Downcyclable: 63%

*average values for a representative of the group.

Environmental Product Declaration Type III
FSC/PEFC

Testing of formaldehyde emission by the chamber method according to EN 717- 1:2006 standard
Test of volatile organic compounds (VOC) emission by the chamber method according to PN-EN ISO 16000-9
PN-EN 15371:2016-12. Furniture. Strength, durability and safety. Requirements for non-domestic tables

VOC Testing – we make sure that our furniture is safe for both the environment and the users. Ogi desks are tested for the presence of Volatile Organic Compounds using the chamber method in accordance with PN-EN ISO 16000-9.
Formaldehyde Testing – to meet the highest standards, we are constantly improving our production methods and the raw materials used. The levels of formaldehyde emission in our desks are now significantly below the requirements in accordance with the PN-EN 717-1:2006.
Safety, strength and durability – we believe in creating durable and timeless furniture. All desks in the Ogi family comply with the PN-EN 527-2+A1:2019-08.
Sustainable production – we are not indifferent to the environmental impact of our furniture, therefore we provide the essential information on the life cycle of Ogi desks through the Environmental Product Declaration (EPD).

See more

Materials: cardboard

Recyclability: 100%
---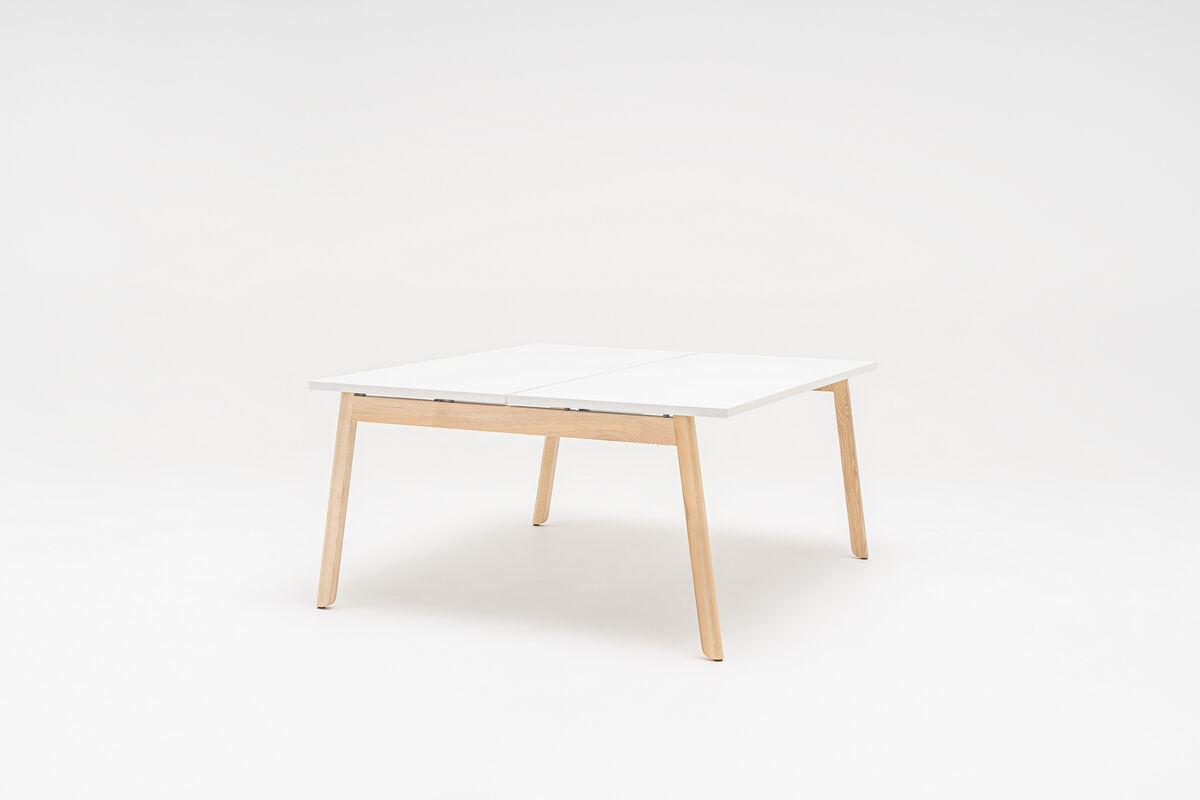 Ogi B Bench with a wooden leg is a functional working desk. Its character is provided by the untypical combination of natural wood base and MFC worktop. Minimal construction ensures a maximum functionality, creating two workstations. It can be further enhanced by installing practical add-ons or acoustic panels, that also designate the space. Classical form guarantees wide arrangement possibilities, especially in open space offices and coworks.