ARTIKO - modular sofa - AT24
Delivery time&nbsp

3-4

weeks.
Product made to customer's order.
Seating Lounge Products Waiting room chairs Artiko EUR Sofas
---
Product details
Fabrics - certificates: Oeko-Tex, Ecolabel;
Modules to be freely configured;
Metal segment connectors with a lock;
Seats and backrests upholstered with high quality fabrics;
Optional coffee tables installed on the joints between seats;
Optional M071 mediabox installed in the seat;
Produced entirely in .mdd factory in Poland, using components from European suppliers;
Designed for public interiors, offices and homes;
Thanks to the springs, the seat is soft and comfortable, allowing the user to sit back and relax.

Backrest - particle board framework; cut foam, density of 35 kg/m3; upholstered;
Seat - chipboard frame; type A wave spring; cut foam - 110 mm thick; foam density 35kg/m³; upholstered;
Worktop - MDF lacquered 16 mm - in frame colour;
Frame - powder-coated metal 18 mm;
Mediabox ARM071 - option with up charge - colour: black, white; 1x 230V socket + 1x USB A charger + 1x USB C charger;

MFC: 6%
Steel: 46%
Plastic: 10%
Fabric: 6%
Cardboard: 15%
Polyurethane foam: 17%

*average values for a representative of the group.

Recyclable: 100%
Downcyclable: 0%

*average values for a representative of the group.

Environmental Product Declaration Type III ITB No. 353/2022

Sustainable production – we are not indifferent to the environmental impact of our furniture, therefore we provide the essential information on the life cycle of our products through the Environmental Product Declarations (EPD).

Materials: cardboard + foil

Recyclability: 100%
---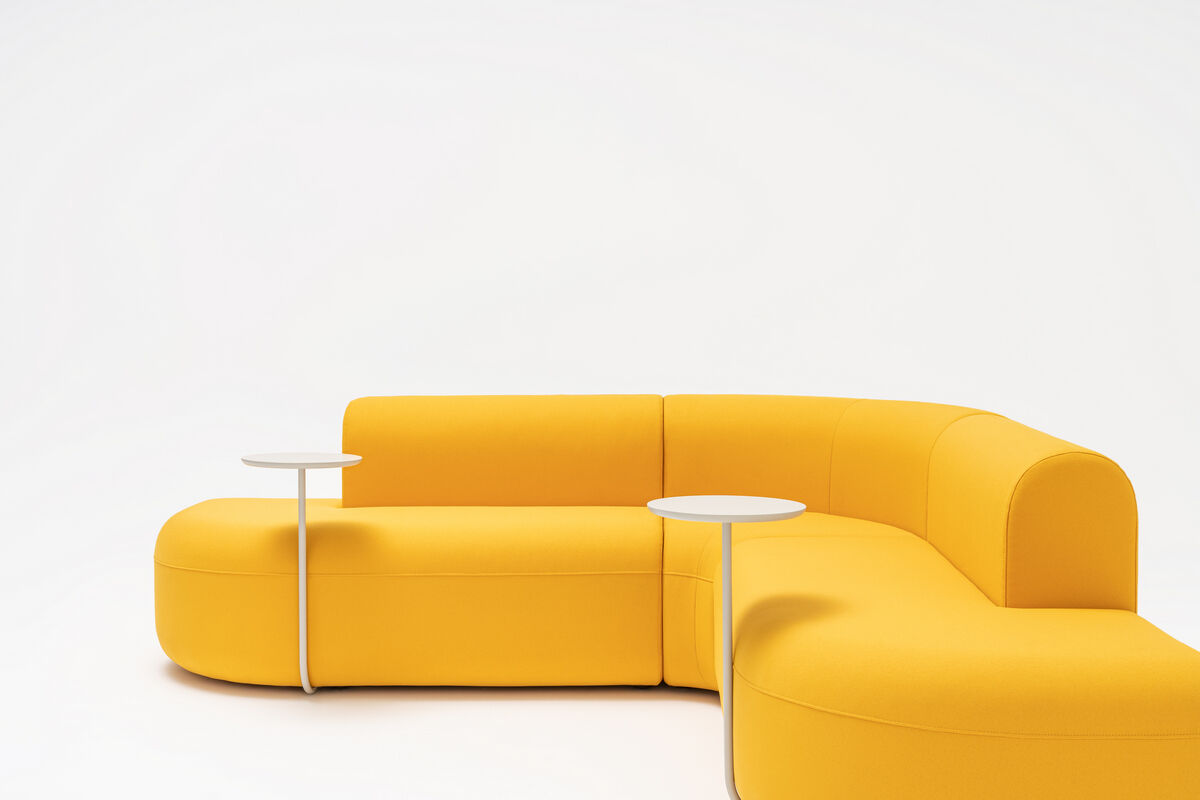 Artiko means "joint" in Esperanto, and that fits a modular sofa perfectly. It was designed as a collection of slightly rounded elements that can be freely combined. Soft shapes and the lack of sharp edges allow for creating an unlimited number of fluid forms.
Artiko generates a friendly atmosphere in the interior. It favours relaxations and rest, as well as social interactions – modules can be arranged in a way to bring people together or designate niches for them.
Backrests and practical add-ons – tables and mediaboxes – allow the user to increase the functionality of the seat. Thanks to that, Artiko will be great for public interiors, such as lounge zones in offices, libraries, hotels or universities. At the same time, it will compliment waiting rooms and residential interiors just as well.